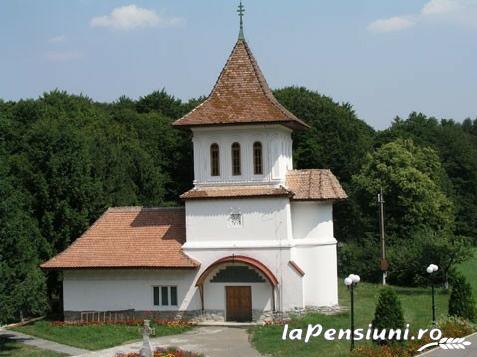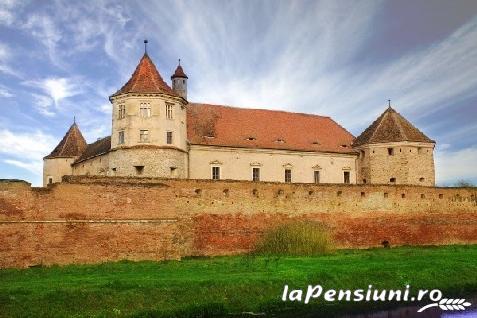 At the foot of Fagaras Mountains, around an old monastery dough rise a new vacation destination.

The surroundings offer guests a pleasant and relaxing view. The air is fresh and clean because the forests. If you want, you are passionate and the weather is on your side you can climb the mountain. Saturday the top is a new holiday destination for mountain lovers and tranquility. Here you'll find new construction and hospitable people ready to meet your every desire.
Saturday the Upper Monastery is represented by a monastic monks found on the river Saturday, at the foot of the Fagaras Mountains. It was documented in 1654, when the village of Upper Saturday Preda Brancoveanu take possession.
Initially, there exists a wooden church dedicated double (Assumption and Healing Spring), built in 1657. Later, between 1696-1707, the initiative Constantin Brancoveanu, he built a church built for solitary monks in the area.

Fagaras Fortress was documented for the first time in 1455, although construction work begun in the late fourteenth century on the site of a fortification XII-XIII century.

Representative of the Renaissance, the city is based on Transylvanian Gothic imprint.
Since 1526 was led by Prince of Transylvania, Stephen Mailath, for 15 years. In 1599 came into possession Prince Michael the Brave, which was housed here with his family during the fighting in 1599-1600. The fortress was used as a residence for the principles of Transylvania, Transylvanian Diet operating here.
While degraded, being used as a prison (1948-1960), where political prisoners were incarcerated.
After 1965, the fortress began the planning of a museum, opened today.
Other ways of leisure: ? visits Brancoveanu Monastery - 350 yards away from the pension ? spring Father Arsenie Boca - 500 meters away from the spa hostel 500 meters from the hostel ? hiking - walking through the woods outdoors ? trout visiting nearby ? Bicycle ? Games room (chess, table tennis) ? in salon can watch movies
(Translated with Google Translate)
Services
Restaurant:
Vegetarian Menus
Children's menu
Local cuisine
Menu with farm products
Wellness and fitness:
Massage
Hydro massage
Sauna / turkish bath
Heated swimming pool
Attractions and activities in the surrounding area:
Museums and galleries
Artistic and historical sites
Churches and monasteries
Sport and activities in the surrounding area:
Bird watching
Hunting
Fishing
Horse riding
Skiing (downhill)
Mountain bike